Nitrobox Recurring Billing Automation
Scale your finance operations with order-to-cash billing automation and stay in control thanks to intelligent business logic
Manage streamlined billing and invoicing for subscriptions, usage-based and hybrid business models from invoice creation to revenue recovery
Billing solutions for any type of business
Manage subscription billing, usage-based billing and hybrid business models
Digital business models and subscription management requires a new type of billing software.
Made for the challenges of usage rating, recurring billing and electronic invoicing, Nitrobox provides a state-of-the art cloud billing solution to automate complex business scenarios – in any country, currency, language or layout.

Apply flexible billing rules
Combine multiple subscriptions and orders to user friendly invoices, deposit invoices or credit notes
Enjoy customized invoicing from super flexible layout design to individual data presentation and aggregation in one central billing platform.
Create perfect invoice documents
Design beautiful invoice templates in any layout, language or currency
Enterprise-grade invoice solutions at your fingertips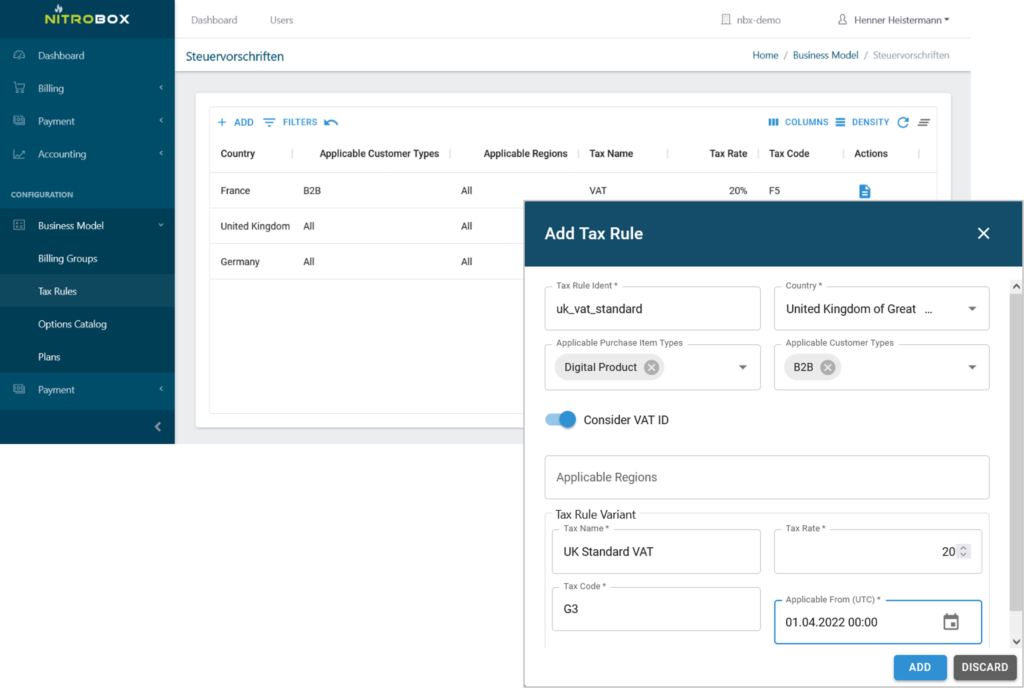 Manage tax scenarios with ease
Implement tax rules and tax providers easily and make adjustments in real time
Define tax rules for countries, markets and customer types. Create invoices automatically for any market and realize a fast time-to-revenue, when entering new markets.
Manage receivables and reduce DSO with automated dunning and collections
Reduce days sales outstanding (DSO) and avoid revenue leakage. Remind your customers automatically of outstanding receivables and manage your individual multi-level dunning process.
Compliant Document Archiving
Stay ahead of international regulation
Store your documents legally compliant for 80+ countries
Preserve your peace of mind and store millions of PDF invoices, credit notes, and documents in a legally compliant certified digital archive. Access files whenever you need them – from anywhere in the world.
All the features for smooth finance operations in one central billing automation software
Learn more about Nitrobox